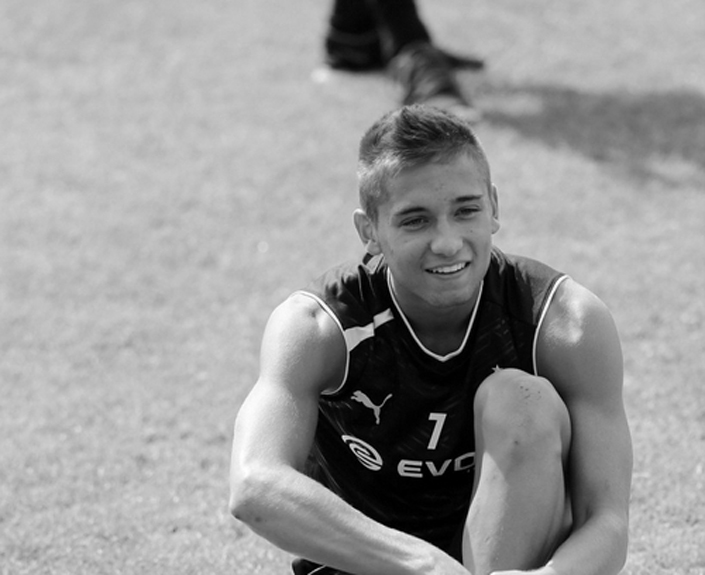 For many years, the Spanish periodical Don Balon fastidiously collated a record of the best 100 young (aged 23 and under) players in world football. The annual list, released at the end of each year, always included a good mix of names that we were familiar with, but also lots of others that we wanted to know more about. The list was well thought through, well thought of, and maintained a real global outlook.
As each year passed, we were always interested to see which players had truly blossomed and which had become ensnared in a spiral of terminal decline. However no website or publication chronicled this, not even Don Balon themselves. The list was issued at the end of the year and that was that.
Sadly, due to a financial meltdown forced by incessant pressure from free to air online content (*looks other way*), Don Balon ceased to be in 2011. In November that year, we took it upon ourselves to review each of the players listed in the final Don Balon register (published November 2010), assessing how the previous twelve months had panned out for each.
Once our review was concluded, the next logical step was to draw up our own watch list of young players for the next twelve months, picking up the baton from Don Balon.
The 100
The criteria for selection of players last year was simple: each must have been born on or after 1 January 1990, and have enough about them to suggest that the following twelve months could be significant.
We could term The 100 as our roll call of the 'best' young players out there, but 'best' can be difficult to quantify. Chelsea, Barcelona or Bayern Munich may have the most exquisitely gifted 16 year old on their books, but if he spends most of his time on the substitutes bench, or finds that playing time equates to infrequent appearances for the reserves, then that's of no consequence to us. We are more interested in the 20 year old who has already clocked up more than fifty appearances at Feyernoord, Gremio, Toulouse or Hoffenheim. A player that has not only made himself indispensable to his club, but is now a serious contender at full international level. In our eyes, practical trumps potential every time.
When we released The 100 for 2012, we received a number of e-mails and tweets questioning why certain players weren't included. The names of two in particular appeared with alarming regularity. We were; "mad to leave Paul Pogba out" and were told repeatedly that, "Ravel Morrison is going to be an Old Trafford legend". Clearly, as noted by one commentator, we were; "complete idiots".
That last comment may be true, but at the time of publication neither player featured regularly in the first team at Manchester United. Twelve months on, the omissions appear vindicated. Only now is Pogba beginning to emerge as a force, albeit at Juventus, while Morrison is hardly pulling up any trees at Birmingham City - his second club since leaving Manchester.
We do have some regrets. Alex Oxade-Chamberlain at Arsenal was in a similar position to the aforementioned Pogba and Morrison and not considered for inclusion, but his ascendency since has been astonishing. Now an integral part of the first team set up at Arsenal, 'Ox' has become an important player for England and was a regular starter at Euro 2012. We knew that the talent was there, but really didn't foresee such a rapid rise.
There are several players that haven't 'kicked on' as we would have hoped, which will be reflected in our assessments. However, we stand by our selection and will do so again when we publish the new list on December 19. On the positive side, we've been delighted by the progress of Oscar, Julian Draxler, Isco, Danny Welbeck, Stephan El Shaarawy, Lucas Ocampos, Lorenzo Insigne and many others over the course of 2012. While we can't claim to have 'discovered' anyone on the list, we have faith in our judgement for selection. Anyone included is there on merit.
The 100: One Year On
For each of The 100 we've recorded our observations and asked a number of individuals whose opinion matters to us to provide a view on that player's twelve months. We've based our assessments on watching players play. For any gaps in our research, we've been ably assisted by Opta whose insight has been tremendously useful.
As well as an IBWM narrative, each player receives a mark based on their performance and development over the last twelve months. Just like an end of term school report, a grade A to E is awarded.
The grades
We consider C to be the norm, a straight line, a 'good' that indicates a player is performing well and their development is on course.
C+ signifies the player is outperforming and, while not quite ready for a higher mark, is progressing better than we had expected when the list was originally released.
C- Suggests that while a player is still on track, they have slipped back marginally and really need a positive 12 months from now to prove that they can fulfil their potential.
The other markings are a little more straightforward.
B implies that the player is not only developing well, but has become an integral part of his team, is playing well and/or has cemented a place at international level. An excellent performance.
D is awarded to those whose last twelve months has disappointed. This might not be the player's fault, often injuries or competition for places may have hampered development. A D marking does not suggest that an individual has become a bad player; it's just that they haven't attained the level we would have hoped. We expect a high standard.
E is awarded to players who have fallen badly by the wayside with no immediate indication that things are going to improve. They'll still have a career as a professional footballer, but it could have been much more than just that.
A is easy to assess, difficult to attain. All of the characteristics of B, but not just an integral player; someone that has excelled and become the catalyst for their team achieving success. We considered that only two players were worthy of this mark last time around: Mario Götze for his defining season in Germany which was the major factor in Borussia Dortmund winning the Bundesliga, and Eden Hazard, the main protagonist behind Lille's title success in France. Those two have set a benchmark against which everyone else will be judged.
The small print
All of these players are very young – none are older than 22 - and we are very aware that players develop at different rates. We've awarded grades based on the last twelve months and how things have gone in that period. A low marking is not always a reflection of ability, but more that opportunities to play have been limited.
The schedule
From 14 November 2012, we will publish twenty assessments each week for five weeks. Clicking on a name from the list to the right of your screen will take you to a separate page covering that player. On week six (19 December) we will publish The 100 for 2013 - it will be their turn this time next year.
Opta Stats
For some of the more high profile players, we've included data from Opta. You will see this information after our grading. The review period for this batch is 1 November 2011 to 31 October 2012.
Your comments
Did we get it right? We always love to hear your thoughts and opinions so please be sure to add comments (you don't need to leave your e-mail address) or tweet us. If you think we are wrong, tell us why, we'd like to get some debates going here.
Thanks!
It's took a lot of work to put The 100 together so huge, huge amounts of gratitude go to Dave, Chris, Ryan K, Danny, Nick, Adam, Andy B, John D, Domm, Jack, Adam, Ben, Jon J, Andrew, Cris, David C, Jon H, Ed, Chris L, Chris M, everyone at Kitbag, all at Opta (especially Simon, Duncan and Matt) and everyone at Photolink – especially Ryan, plus all of our other friends too! Thanks all for your help, we couldn't have done this without you!
Here's to The Class of 2012, enjoy The 100