'SLIM' JIM BAXTER AND A GAME OF THREE CARD BRAG
A Rangers, Sunderland and Scotland legend.
Vienna, 1964.
It is a bitingly cold December evening. Snow has cascaded down upon the Austrian capital over the past week or so. Just to the west of the very heart of the city, groundsmen at the Praterstadion have been working feverishly, fighting against the chill, to clear the pitch of its newly acquired white blanket.
Their efforts are successful but, in its wake, the snow leaves behind a meddlesome, sticky field. The upcoming second leg of the European Cup second round between Austrian champions Rapid Vienna and Scottish champions Rangers looks set to be an ugly affair.
And yet, there is one man who seems particularly oblivious to the playing conditions. The Rangers left-half, 'Slim' Jim Baxter, adorned in the famous Glaswegian blue, shows no signs of allowing his play to succumb to the recent weather. The twenty-five year old from Fife glides around the field as effortlessly as if playing on the pristine grass of the modern game, leading The Gers to a famous 2-0 victory. It is Baxter's finest hour for the Ibrox outfit. It is effectively his last.
Jim Baxter was one of those rare men in football, a man who transcended the game and strayed far too often away from the footballing bubble towards the salubrious excesses of 'real life', and one who would nowadays find himself on as many front pages as back ones. His flair and brilliance on the field was undoubted, his eccentricities off it even more so. His death in April 2001 was met with an outpouring of respect and remembrance in the footballing world - Sir Alex Ferguson remarked that Baxter was "arguably the best player to play in Scottish football."
Such a legacy is all the more remarkable given that, by the age of just 30, Baxter had departed the game for good. Years of playing by his own rules, drinking copiously, sleeping marginally, and training sporadically, had caught up with him, and he was released from Rangers following an inglorious second spell at the club.
It is remarkable that Baxter even managed a few years at the top, considering his nonchalant manner when it came to pursuing a livelihood in the game. Having enjoyed a successful schools career at a young age, he found himself emancipated from organised football once he left education. Following in the footsteps of many a young male in Fife, the future Scotland international soon ventured down the mines, with his footballing exploits limited to ragtag games taking place on blustery Sundays in the village. He had been approached many a time by the local Halbeath Boys Club, refusing their advances almost as quickly as they could proposition him.
Eventually, he would turn out for them – but only on his own terms. In a story that is effectively a microcosm of Baxter's wider career and lifestyle, his entrance into the footballing world was one that was decided by, quite literally, how fortunate his cards had been dealt.
Malcolm Sinclair, friend of Jim's since a young age, once again attempted to get his acquaintance to play for Halbeath. Knowing full well where he would more than likely find Baxter, Sinclair ventured to the Hill o' Beath Institute. There in the card room, sure enough, was Jim Baxter, deeply involved in a game of three card brag. Rejecting Halbeath's advances once more, Baxter told Sinclair in no uncertain terms that he would not be accompanying him to the team's game that afternoon.
Thirty minutes or so later, Baxter was out of money, and decided he may as well go along for the ride. From there, the only way was up, and he soon made it onto the books of Raith Rovers. However, as Sinclair would later recount to Ken Gallacher, Baxter's biographer, 'I believe that if Jim had turned up the three aces and won the hand of brag then Rangers and Scotland might never have had him playing for them.'
A successful few years at Raith would come and go, before Rangers manager Scot Symon decided Baxter was the man he needed to complete the side he was building at Ibrox. Nicknamed 'Slim Jim' for his slender frame, a gift which enabled him to glide past many a defender with effortless ease, Baxter was thought by Symon to be the final piece of his Glaswegian jigsaw.
History suggests he was most certainly right. Baxter's five years in Glasgow reaped three league championships, three Scottish FA Cup victories and four Scottish League Cup hauls. For half a decade he was the brightest star in fantastic Rangers team, and only European glory eluded them. He became a legend for the Ibrox faithful, turning in one splendid performance after the other, and all this while enjoying the Glasgow high life on an almost nightly basis.
When he departed the club in 1965 in acrimonious circumstances, great rivals Celtic promptly notched up nine league championships in a row. It was against Celtic that Baxter's influence for Rangers was perhaps most evident. Once notoriously tight affairs, he seemingly reduced the famous Old Firm matches to something of a procession – in eighteen games against The Hoops, he found himself on the losing side just twice. Long time friend of Baxter and notable Celtic player Paddy Crerand was one of many who became accustomed to the mercurial wizardry of this young upstart.
And what an upstart he was. Allegedly shy when first making the grade at Raith Rovers, it wasn't long before the bright lights of the city of Glasgow managed to woo Baxter. The tales of his exploits are ones akin to those of the late Keith Moon; it is hard to determine between the mythical and the legendary. To say that he was fond of a drink would be to understate the matter completely. Many a training session began with a hungover Baxter vomiting the previous night's intake into the changing room toilet before taking to the field. It was a lifestyle he refused to stray from throughout his entire life; some suggest that the only nights he wouldn't get in any way drunk were those that preceded a game he knew he'd be playing in the following day. This, combined with his relentless gambling, would ensure that his career in football would last scarcely more than a decade.
A pertinent example of his frivolous behaviour comes from his time on duty with the Scottish League team. Baxter and his colleagues were instructed by Scotland manager Ian McColl that they could go for a night out, provided they were safely tucked away in their hotel bedrooms by 2am. Knowing full well that his left-half would push any such curfew to the very limit, McColl made a special effort to outline his instructions to Baxter. He took him to one side as one would do to a misbehaving child, and explained to him that when the hands on the clock in the hotel foyer were in such positions as to show two o'clock, then Baxter must be back from wherever the night had taken him. To no great surprise, 2am came and went with no sign of the most rebellious man on the team, and it took until nine in the morning before he finally returned. Livid, McColl readied himself to launch into a tirade, reiterating his earlier explanation about the hands of the clock. Baxter, no doubt with a mischievous grin and glint in his eye, proceeded to return fire with an explanation of his own. The hands had not in fact struck two o'clock at all, he said, for he had made sure to remove them from the clock face before departing for his night out. And with that, he reached into his back pocket, pulled out the two clock hands that had provided such a cunning loophole for his antics, and placed them in the palm of his disbelieving superior.
Not all of Baxter's anecdotal history was linked to his desire to find alcohol and alehouses. His disdain for training never left him, be it physical or mental endurance that he was asked to partake in. Once such tale goes that, during his days at Sunderland, the Scottish left-half and his red and white teammates were subjected to watching the manager - once again, Ian McColl - move Subbuteo men around a tabletop green pitch. Bored beyond belief, and no doubt imagining his time would be much better spent elsewhere, Baxter proceeded to jettison a mouthful of water all over McColl's carefully positioned figurines, before turning and heading for the exit. With his manager furious once more, and inquiring just what Baxter thought he was playing at, Jim is said to have returned the casual riposte of "Match abandoned, boss. Waterlogged pitch."
Ian McColl was by no means the only manager to fall prey to Baxter's mischief. Looking back, some of Baxter's teammates in his original spell at Rangers suggest manager Scot Symon lost the dressing room because of his willingness to turn a blind eye to the numerous occasions when his star player stepped out of line. His refusal to train too, or at least train with any semblance of effort, was the cause of much discontent within the Ibrox dressing room.
Ultimately, it was such mischief that led to his downfall at Rangers. In that aforementioned game in Vienna, Baxter refused to relent with his tormenting of Rapid right-back Walter Skocik, even when it was clear that the game was over as a contest. With the game winding down to its final seconds, Baxter took it past his opponent once, then a second time, then went back for a third and final embarrassing nutmeg. Fed up with being made to look the fool, Skocik decided enough was enough, and promptly scythed down his tormentor. Baxter's leg was broken, a victim of his own tomfoolery. Rangers would go down in the next round in a narrow defeat to Inter Milan, with the injured Baxter able only to look on from the stands and wonder what might have been.
A few months later and he was gone. The Rangers directors, fed up with seeing their club representative getting himself, and others, into trouble, and recognising that his refusal to train properly in rehabilitation would lead to a diminishment of his powers, decided enough was enough. He would return, briefly, four years later, but he would never again reach the heights of his early stages in club football.
Certainly though, it was not just for his club football that Jim Baxter is remembered. His time in the Scotland starting eleven was a short one, particularly given the lengthy international careers that many players manage to churn out nowadays, but one would be hard pushed to find a Scotsman more revered than Baxter still is for his time in national colours.
Effectively, his Scotland career is remembered for two games against the auld enemy – England. The first of these came in 1963, just two years after the Scots had been battered 9-3 by their neighbours at Wembley. This time they returned with revenge in mind, and a new weapon in the shape of Baxter. This new weapon showed how powerful his ammunition was too, scoring both Scotland goals in a famous 2-1 victory. The legendary Scotsman Dave Mackay states that that game gave him his favourite memories of Baxter, and many more have echoed such sentiments. For proof, we need only go to biographer Gallacher, who pronounced almost half a century following the game, 'They still talk in tones of reverence today of the moment that Jim Baxter first made Wembley his own personal property.'
It was not just the two goals that made Baxter a household name from this game, but the manner in which he presented himself. Throwing caution to the wind, he roamed majestically across the turf he came to love so dearly. One moment he would pop up on the left, the next he would surface on the right, all the time with the ball glued to his foot in a manner Lionel Messi would have been proud of.
Conjecture is a brittle device, forever plagued by the inability to prove its propositions. And yet, one would find it very hard to argue with the assumption that, had James Curran Baxter been born a mere one hundred or so miles south of Fife, then he would have been part of the side that held aloft the Jules Rimet trophy in 1966. Baxter himself certainly thought so. Following the success of Ramsey's 'Wingless Wonders', the miffed Scot was said to have been incredulous that the Three Lions were champions of the world. He, along with Denis Law, felt their own Scotland side were simply better than their southern counterparts. They acted upon those feelings less than a year later, in the game that usurps Wembley 1963 as Baxter's most memorable.
Scotland's 3-2 victory over England at Wembley in 1967 was a result that brought joy for an entire nation. In a world away from the game of today, where home internationals are met with more apathy than anticipation, this fixture was then the highlight of many a calendar. The visitors' taste for the encounter was further whetted by the dismissive nature of the English press; no one gave their northern neighbours a chance against the reigning world champions.
Though Baxter often asserted that he had played far better in lesser-known games – indeed, he often made a point of stating that his first pass in this victory went hopelessly awry – other observers are much more adamant of his brilliance that day. Bobby Brown, then Scotland manager, believed Baxter "gave one of the greatest displays ever seen at Wembley", while those Three Lions on the opposing side, particularly the diminutive Alan Ball, would later wax lyrical about the beating Baxter so stylishly handed them.
Yet, despite his almost perfect footballing display, it was a far more impish act that ensured he would forever remain a prominent figure in the history books. With the game winding down and the visitors in the lead, ignoring the desperate pleas of Denis Law who, searching to further avenge that 9-3 defeat, wanted to run up a cricket score beneath the Twin Towers, Baxter incredibly teed the ball up for himself and jauntily performed a five second 'keepy-uppy' routine. Look back at the grainy black and white footage now, and the feat is no less astonishing. Here he was, on the hallowed turf of Wembley, against the reigning world champions, acting as carelessly as though he was back in Fife on a brisk Sunday morning, having a kickaround with his fellow pit workers. In the process of doing it, as with so many of his actions, he managed to upset plenty of people. England defender Jack Charlton was said to be disgusted by Baxter's sheer nerve to try such a thing, while Law was angered by his belief that the final score could, and should, have been far greater than the eventual result of 3-2. For Baxter himself, it was truly the final peak in a career that would go steadily downhill from there. One cannot help but think that such a peak is hardly the worst legacy to look back on.
Following his departure from Rangers, a sensible observer would have expected a plethora of clubs to be fighting tooth and nail for Baxter's services. Yet such a situation could not be further from the truth. Even without the mass of communications that reverberate through the game today, bad news still travelled relatively fast in 1960s football, and there were few who were not aware of Jim Baxter's off the field reputation.
So, 'Slim Jim', whose increasing frame would soon make a mockery of that moniker, was very much left with limited options. Perhaps hoping against all evidence to the contrary, it was Sunderland who eventually came in for him, believing he could be the man to return the north-east club to their pre-War glories. The writing was on the wall from Baxter's very first game – a 0-5 friendly defeat against his own previous arch rivals, Celtic. The enthusiasm that he had met his move southwards with evaporated quickly, his promises of 'a fresh start' off the field were soon shattered. A miserly few years on Wearside, injected with the all too irregular show of the old brilliance, were followed up with an even worse spell at Nottingham Forest. It became abundantly clear to both him and others: the players whom Baxter now found himself alongside were simply not in his league.
But if Baxter had difficulties finding like-minded individuals on the field during his time in England, no such problems presented themselves to him when off it. At Sunderland, in George Kinnell, he came across a man who was more than happy to indulge his new teammate in his taste for the good life. Nowhere was this found to be more true than in the Wearsiders' infamous pre-season trip to Vancouver in 1967. Their feet had barely touched Canadian soil before Baxter and Kinnell found themselves on the wrong side of the law; club staff were forced to sweet talk two Canadian policeman out of arresting the two players on the very first morning of the trip. Numerous Baxter-related stories emanated from that tour, none of them that the club would have looked upon favourably, including one where a member of the side found himself hospitalised with alcohol poisoning following a particularly devilish drinking game instigated by his two associates.
When Baxter then ventured deeper into England, taking up a generous contract at Forest, he once again discovered a willing drinking partner. This time around it was Gary Sobers, he of West Indian cricketing fame, who was then plying his trade for Nottinghamshire. Known about town as the duet of "Drunk 'n' Sobers", the famous all-rounder shared his Scottish compatriot's verve for socialising, and their lengthy spells at the bar in Nottinghamshire County Cricket Club became an all too regular occurrence. One of the most renowned stories from that era came when England faced off against the West Indies at Trent Bridge. Baxter, accompanied by a swathe of teammates and other accomplices, was disallowed from buying drinks at the club bar, only for Sobers to instruct all drinks to go on his tab whilst he went out to the middle and batted. In perhaps one of the less sensible choices in his illustrious career, Sobers proceeded to bat for roughly a day and a half, before returning to a drinks bill of staggering proportions.
Inevitably, it all took its toll. Gone from the game before he'd turned 31, Baxter was left with little to do than spend his days drinking and gambling profusely. He had never swayed from this livelihood during his playing days, so the chances of a change in character once he no longer had a ball at his feet were slimmer than he himself had been at his Ibrox peak. He opened his own bar near the Rangers ground but, in another example of his torrid gambling luck, his ownership soon coincided with a dramatic loss of form for The Gers, and with it a downturn in custom. Baxter, cutting his losses, sold up. Sure enough, in a mere few years, Rangers were back on top, cantering to a record-equalling nine consecutive league championships (replicating the aforementioned success of the post-1965 Celtic team). The man from Fife had once again missed out financially.
And yet, as many will testify, he was never one to blame others. Baxter knew that it was his own fault his football career had been cut so pathetically short. He knew he had done wrong. He knew the consequences of his drinking, and his party lifestyle, were catching him up far quicker than he could ever hope to outrun them. In 1994, they brought him to the brink of death, and he required a liver transplant to prolong his own life. Much was made of this in the media, with many claiming he was the wrongful recipient of another chance; what is often forgotten is that Baxter never once requested the transplant, he was simply fortunate enough to be offered one. From there, the drinking lessened, despite the odd relapse, though the ludicrous gambling would continue until his very final days.
April 15th is remembered forever in the footballing world for that fateful day in 1989 when ninety-six Liverpool fans went to watch an FA Cup semi-final and tragically never returned. That Jim Baxter died on the very same date, this time in 2001, ensures that it will never be a popular date in the sporting calendar.
Some would surmise that Baxter's real end had come long before then. Though pancreatic cancer took him from the world at the age of 61, for many his most inglorious finale came over thirty years earlier with his second departure from Rangers. Both were unsuitably sad ends for a man who, in the space of a mere decade, set the game alight.
Not long before his death, the impact of Baxter upon the beautiful game was formally recognised. In front of an adoring crowd at Hampden Park, he and ten others, including Denis Law, were recognised as Scotland's greatest ever XI. This came despite Baxter's rather meagre international statistics; a tragically short Scotland career, a mere six years long, produced just thirty-four caps and three goals. If nothing else, this simply served to showcase how brilliant the former left-half had been – he had needed less time than most to confirm himself as one of the game's greats.
Of course, were it not for his pitiful gambling skills in that seemingly minor game of three card brag back in the Hill o' Beath Institute, the world may have never have known both the skill and the mischief of 'Slim' Jim Baxter.
Click the image to watch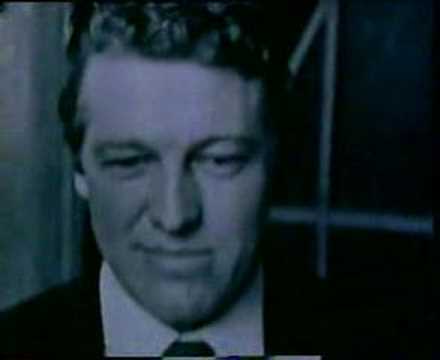 You can read more from Chris at the excellent Roker Report and follow him on Twitter @Christoph_21.