BUILD IT AND THEY WILL COME - A PASSION FOR LEGO FOOTBALL STADIUMS
We've all been there.....haven't we?
I love football. No seriously, I do. And when I was little I loved Lego. Who didn't. I was a very serious Lego builder. But I had rules. All of my constructions had to be in one colour. I couldn't half finish a structure using a different shade, oh no. I would have to take it apart and build it smaller. I would spend hours sketching designs before building them, making my Dad take loads of pictures before knocking them down again. Nobody wanted to see a day old structure, irrespective of how good it looked.
My third love as a kid was Subbuteo. I have already eulogised about this here. But what better way to combine the three than by building Lego Football Stadiums for Subbuteo. I would say that 99% of the things I built were for my own virtual stadium. I designed Executive Box stands like Luton Town's, triple decker stands like Everton's Goodison Park and huge banks of terrace like Arsenal's North Bank. Of course the whole scale thing didn't work with one Lego man approximately 2.5 times bigger than a Subbuteo player, but hey ho.
I also take credit for the big "Jumbotron" screens we see in stadiums today. My Lego stadiums had those in it from the early 1980's. I built a floodlight that were so tall that it would have taken down aircraft if constructed in real life. The idea being that one strong light shining down from a height would be enough for night (using a solar principal). I even sent that idea to Blue Peter and Take Hart but never got a reply or featured on the Gallery.
As time went on, and girls started appearing on the scene my Lego stadium building scaled back. I would occasionally go to town on a new construction, such as the infamous design for the new East stand at the Bernabeu which features a six tier stand, complete with a trophy presentation platform on the roof, accessible by lift. Revolutionary. But girls didn't seem impressed when I got out my stadium photo album. What was wrong with them? One day a particular popular girl spotted a copy of Readers Wives in my Lego drawer and suggested we look at that rather than my Lego pictures. I was hurt and from that day on I resigned from my career as Kent's finest Lego Stadium architect (she didn't like Readers Wives either - calling it degrading. She later married an Accountant).
Last week for some strange reason my memories of the structures I built popped into my mind whilst I was surfing the 'net. I typed in "Lego Football Stadiums" and I got "About 536,000" results. OVER HALF A MILLION results. Not only that but over 429,000 image results. Can you image how long that would take to look through? I can because after I went through the first 500 in an hour I realised it would take me another 19 days and 21 hours to look at them all. Whilst CMF is a patient girl, even she would draw the line at this.
It seems like this strange hobby was not just confined to this country. Our cousins across the pond seemed to be just as keen on the idea. The example on the left is a model of the Yankee stadium in New York. It is made up with over 25,000 individual pieces, took over 20 hours to put together and the Lego blocks cost nearly £17,000. Most non league clubs would baulk at paying that for a proper stand!
Some people may ask the question "why?" but that is not the right question. Surely it would be "when?" Who wouldn't want to build one of these beauties. We are men, we have an inbuilt desire to build things and what better thing in life to build than a Lego football stadium.
A simple search on Youtube throws up all sorts of stadiums built in Lego. A basic Old Trafford, a step by step guide to building your own PSV Stadion in Eindhoven and this fantastic little number below from Lódz in Poland.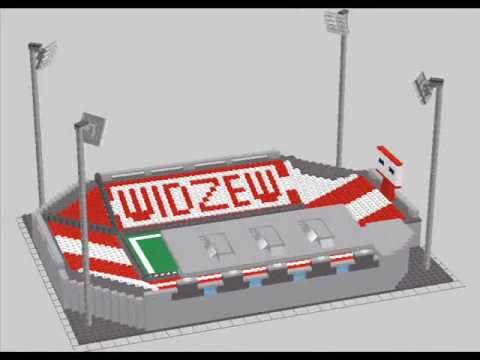 Youngsters of today are so spoilt. We didn't have YouTube to help us build these magnificent structures. I used to keep my hobby quiet from my friends. Who really played with Lego when they were 15 or 16? Well I did that is for sure. My parents knew it was my most treasured possession and were very proud of my constructions. My Lego drawer became sacred, so sacred they dared not to go in there, which of course made it a perfect place to store my teenage illegal contraband (Bensons and various copies of Fiesta and Razzle) but that is a story for another day. With the age of the PS3/X-Box/Wii still upon us is it any surprise that it is left to us bigger kids to keep the Lego flag flying.
Lego have tried to go upmarket by selling artistic interpretations of landmarks such as the Empire State Building or the Eiffel Tower. These 3inch models cost nearly £20. They may look very nice on a mantle piece in a Docklands flat but that is not what we want to see. Where is the Estadio Bernabau, the Emirates or the Wankdorf? Come on Lego, that is what we want, what we really really want!
Stuart has written six books on football, and also edits the peerless The Ball is Round. Follow him on Twitter @theballisround.