THE MESSI AND MARADONA ISSUE
We had to ask.....
In a team packed full of superstars, there is one that rises above. The pick of the bunch, the crème de la crème, the best player in the world. Barcelona have their nonpareil centre-forward: Lionel Messi. His influence is unrivalled; La Pulga is undoubtedly the foremost player in a generation stacked with talent.
While people argue that Cristiano Ronaldo deserves to be considered the best player in the world, the only debate with Lionel Messi surrounds his position among the all-time greats. Are we watching the greatest player of all time?
The Argentine maestro plays football as if it is a work of art; each swing of his boot like the delicate caress of an artist's brush on the canvas. Each pass chipping away at the opposition as if they are made of marble, and he is Michelangelo. Every goal is a building block; Lionel Messi is creating a legacy in world football.
Though there is one trophy he has yet to lay his hands on. One tournament he is yet to truly impact, of course I am talking about the FIFA World Cup.
At Barcelona, Lionel Messi is a footballing God. His reputation is beyond compare, all at a club that has seen other world-class players don the famous Blaugrana jersey. FC Barcelona has been home to the original Ronaldo, in what some consider the finest season of his career. Fellow Brazilians Rivaldo and Ronaldinho graced the Camp Nou in their prime, dazzling crowds with their skill and imagination.
Recent years have seen one of the finest strikers of all-time Samuel Eto'o fire in goal after goal for Barcelona, alongside fellow great Thierry Henry.
Xavi Hernandez, Andres Iniesta, Carles Puyol, even Josep Guardiola himself; all pale in comparison to the Lionel Messi of FC Barcelona. The records he will inevitably set are likely to be insurmountable; his trophy haul (both collectively and individually) will put any player to shame yet the World Cup will cast a hulking shadow, tarnishing this man's legacy.
The argument is that Diego Maradona single-handedly dragged Argentina to the 1986 World Cup, so a player wishing to be declared as good as, or greater than, El Pibe de Oro should be able to do the same.
While the argument holds weight, what if the very same player moves one step further? Forgetting the international scene: What if that player single-handedly drags his club team to success in the UEFA Champions League?
Before we get into that, a little recap of the 1986 FIFA World Cup is in order...
Just to clarify, I was not old enough to witness the 1986 World Cup. In fact, I was not even born, and therefore did not have the honour of witnessing Maradona's super-human efforts first-hand. That being said, it is easy to find repeats of the aforementioned tournament, and while I have not witnessed every match from the 1986 World Cup, it is plain to see what an achievement it was for El Diego.
In particular, one game stood out. The match against England in the quarter-finals went down in the history books as one for the ages. Of course, the reasons were mixed. After a first half in which Peter Shilton saved many Argentine chances created by Diego Maradona, the second half was to spark fury and delight.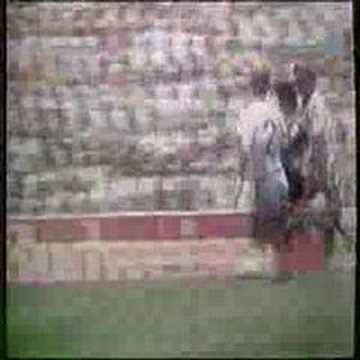 Picking up the ball deep inside the England half, Maradona cut inside of Glenn Hoddle, and after he darted in between Terry Fenwick and Peter Reid, tried to pick out Jorge Valdano with a diagonal pass. Unfortunately, Steve Hodge was marking Valdano, but his attempt at a clearance was poor, and the ball was sliced back towards goal.
Maradona was clearly anticipating the one-two from Valdano, and Hodge supplied that, albeit, a lot higher than the diminutive Argentine could reach legally. Jumping to challenge the 6'1" Peter Shilton, Diego punched the ball into the net.
"Un poco con la cabeza de Maradona y otro poco con la mano de Dios"
While the goal itself should not have been allowed, El Diego was merely acting on instinct. Not only that, but he is not the first and last man to act in such a way: Thierry Henry and Luis Suarez; both recent examples of the World Cup leading to famous handball incidents. At this point, it is down to the referee to spot the offence, and clearly he did not. Maradona gets away with it, though the manner in which he scored the first detracted away from the fine build-up play he orchestrated.
It has often been said that there is a "fine line between madness and excellence" and Maradona's performance in the England match is the quintessential example. Just four minutes had passed since the "Hand of God" and Maradona was at it again. The world had seen Mr Hyde, it was about to witness Dr Jekyll.
Receiving a pass some 10 metres into his own half, Maradona was about to embark on a journey of epic proportions. On route to goal, he would make no fewer than six England players look like amateurs, skipping past their challenges, drifting past their pressure, rounding the goalkeeper, and stroking the ball into the empty net. Truly mesmerising stuff by Maradona and the English commentator summed it up brilliantly:
"It was beyond their [England's] ability. It is England nil, Diego Maradona two."
Voted Goal of the Century in 2002, it does not matter what your opinion is on the first goal. The second was of a quality that transcends the ages. That game was the epitome of the 1986 FIFA World Cup: Diego Maradona was single-handedly dragging Argentina to the title.
Now is there a difference between "single-handedly winning" and being "the difference maker"?
Take Maradona out of that 1986 World Cup, and it is virtually guaranteed that a team other than Argentina would have won. His performance hints that he single-handedly won that World Cup, but one could argue that being the difference is the same thing. Being the difference between winning and losing a title is surely the same as single-handedly winning a title, and therefore, Lionel Messi must fall into that category.
After the UEFA Champions League final at Wembley, Pep Guardiola – usually so reserved with his praise – heaped the credit onto Lionel Messi.
"As I have said many times, Messi is the best player I have ever seen and perhaps the best player I will ever see. We play very well and have great players but without him we would not be able to play the way we do, he gives us that extra cutting edge, a step up in quality. We have hard work, talent and tactics that help the players feel comfortable, but Messi is unique, irreplaceable, impossible to duplicate."
Pep Guardiola knows what everyone knows; without Lionel Messi, Barcelona would not be the best in the world. Of course, with players such as Xavi, Pique, Iniesta, Villa etc in the squad, the club would still compete with the greatest, but what Guardiola is saying is that Lionel Messi is the difference, he single-handedly wins Barcelona the titles.
In Formula One, Red Bull have built a fine machine, but with Sebastian Vettel at the helm, they win titles. Manchester United always have a world-class squad, but with Sir Alex Ferguson, they have one of the best in the world, that constantly deliver on the title front.
Accepting that Lionel Messi is the difference-maker for FC Barcelona is easy, but can we definitively say that he single-handedly drags FC Barcelona to title after title?
Well, looking at past encounters, it is fair to say Messi has the final say. Last season was a fine example, at the Bernabeu, in that vitriolic Champions League first leg, La Pulga was certainly the difference. Only he (of that Barcelona team) could ghost into the position for the first goal.
Now the second; there is no doubt that Lionel Messi is the only player in world football capable of scoring such a goal. In fact, in the long history of Association Football, only one man could have a chance of scoring such a goal: Diego Maradona. Akin to the Goal of the Century, Lionel Messi had to face up to numerous challenges, exhibit close control, strength and composure to finish off Madrid's hopes, and end the game.
Just as the England match was a defining moment in Diego Maradona's career, could we compare the Real Madrid game as a similar milestone?
In my opinion, it would be naive to under-estimate what a feat the two goals were for Lionel Messi.
In the season before last, FC Barcelona were at the Camp Nou against Arsenal. The first leg had ended 2-2, and they needed a big performance from someone. Step forward Señor Messi. Putting the Gunners to the sword with a masterful four-goal haul, that was the day Wenger uttered his now infamous line:
"He's like a PlayStation. I think he can take advantage of every mistake you make. Barcelona are a very good side but of course they have Messi who can make the difference at any moment in the game."
Setting aside the fact that the first sentence is poor English (tut tut Mr. Wenger), that is some high praise indeed, from one of the best managers of all-time. It was a sublime match for Messi, and one that started this "Greatest of All Time" row. Wenger says that the kid from Rosario made the difference, and again, one must ascertain whether any other player could have scored the four goals.
There are no doubts about this one though, Lionel Messi was not only the difference, but he single-handedly dragged FC Barcelona past Arsenal. Other matches from last season come to mind. There were the home victories at the Camp Nou against both Villarreal and Athletic Bilbao, the away win against Valencia and yet another fine performance at the Camp Nou versus Arsenal.
Making the difference time and time again, Lionel Messi does drag Barcelona to that extra level, and while he may never win the World Cup (time could prove me wrong), the consistency with which he operates should place him alongside Diego Maradona, if not higher.
While I know Maradona was a world-class player all-throughout his career, are we meant to accept his singular FIFA World Cup medal is more significant than the plethora of Champions League and La Liga medals that Messi has accumulated? And is the Golden Ball he picked up at the same World Cup being superior to the consecutive Ballon D'Ors?
Should Lionel Messi continue this season in the vein that he has started it in (in eight games Leo has managed nine goals and assists), we will have witnessed the best season by any player at any time, and should the previous seasons be a reasonable barometer, Barcelona will be atop the pile for the fourth season in succession.
Maybe a little more credit should go to Messi, after all, not even Maradona can claim to have dominated the sport like he has. Scary thing is, Lionel Messi is just 24 and has another few years to hone his skills, it is just a matter of time before he is crowned the "Greatest of all Time".
Arron is senior editor at barcablaugranes.com